Every new parent knows that choosing a name is an important task. There's plenty of evidence that tells us names can affect a child's performance at school and even their long-term career prospects. It's no surprise then that the same applies to your intranet. In fact, a well-chosen intranet name can drive intranet adoption and engagement. However, a bad choice could result in dissatisfaction and poor take-up.
And so, finding a suitable intranet name should be an essential part of the deployment process. But rather than opting for the obvious like 'CompanynameNet' or 'iCompanyname', why not let the creative juices flow? Take the time to come up with a name that captures your vision and values while engaging with users. Sounds like a tall order?
Here at MyHub we know a thing or two about intranets, as each day, we help companies create and launch their own. That's why we've created a list of our personal favorite intranet names, along with this guide, which we hope will inspire and inform you throughout your intranet-build process.
Best Intranet Names: Top 10 
1.Work-e-pedia

2. Exchange

3. The Grid

4. Pulse

5. Elvis

6. The Hub

7. Gateway

8. Insite

9. The Forum

10. Planet
Naming Your Intranet: Why It's Important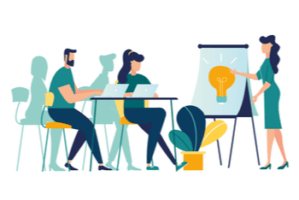 If there's any doubt about the importance of naming your intranet, then consider this: A name gives the intranet an identity. Moreover, the right name inspires, motivates and engages users. And it will convey your brand's vision and values. It also humanizes the intranet and helps to distinguish it from other company systems.
However, the stakes are high. The intranet's name will quickly become part of the company vocabulary. It's likely to be uttered many times a day by employees. And it could potentially be around for several years to come.
Therefore, the name needs to be catchy and memorable. And it needs to reflect your corporate brand as well as what's important to you. But where do you start?
Intranet Names: How To Get Started
A useful starting point is to consider the aims and objectives you have for your intranet. What are your goals? And how do you envisage staff will be using the intranet? The next step is to consider what kinds of people work for you. What attracted them to come and work for your company rather than the competition? Brainstorming these questions will help you to focus in on what's really important. And it could provide the spark that leads to the perfect name.
It's also worth considering what kind of organization you are. Does your company have a hierarchical structure and a more formal feel to it? Or is it a flat organization with more of a casual vibe? The overall culture of your company may well influence your choice of name.
Your intranet is, of course, separate from your customer-facing brand. However, it makes sense if there is a connection between the two. Does your external brand have something distinctive such as a slogan, color or an image? This could provide inspiration for the intranet's name. In addition, staff are more likely to connect with the intranet if there are linkages with the external brand.
Ideas For Naming Your Intranet
Use A Character
Some companies have gone down the route of naming their intranet after a character. The advantage of this approach is that you can develop an associated full-on brand with a mascot or cartoon figure.
Examples we have come across include Elvis, Yeti, Basil and Dwight. Other imaginative examples include the firm of accountants who named their intranet 'Luca' after the mathematician Luca Pacioli who is commonly acknowledged as the father of accounting. Or how about the healthcare organization who named their intranet 'Flo' after the founder of modern nursing, Florence Nightingale.
Industry Puns
A play on words related to your industry can be fun. How about the water utility company who chose the name 'Gurgle'. Instead of googling it, users are encouraged to Gurgle it!
And the commercial refrigeration suppliers who named their intranet 'The Fridge'. Of course The Fridge is where employees go to find all the cool content!
A firm of industrial electricians, for example, could name their intranet 'Sparky'. Developing a cartoon persona for Sparky will further build engagement. Sparky could even write his own company blog or comment on news feeds.
A Play On Your Intranet's Aims
What are your aims and objectives for the intranet? How will the intranet impact on the daily work of your staff? Brainstorming these kinds of questions can throw up some ideas for a name. 'Lighthouse', 'Pulse', 'The Loop' or 'People Hub' are all good suggestions here. These names reflect the intranet's purpose and give a clue as to what employees will discover upon logging in. For example, the BBC has called its intranet 'Gateway' which neatly sums up the intranet's purpose.
Be Inspired By Your Location
Are there any landmarks, attractions or special features near your workplace? 'Homeport' or 'Harbour' could be a possibility for businesses located near the sea. What about 'Piazza' or 'Plaza' for those situated in a square or shopping mall? And for any businesses located near a bridge, then 'Bridge It' is a great name that conveys multiple meanings. Of course you would then have to name the company blog 'Bridge Its Diary' after the well-known book and movie!
Acronyms & Abbreviations
These can offer plenty of naming possibilities. 'ICE' standing for information, communication and engagement is one possibility. Or what about 'CECIL' meaning communication exchange for collaboration, information, and liaison.
A Play On Your Company Name
Maybe there's some potential in morphing your company name into a name for the intranet. For example, the name given by Adidas to their intranet is 'Adiweb'. And at pharmaceutical giant Pfizer the intranet is known as 'PfizerWorld'. Similarly, software company SimCorp has called their company intranet 'SimLink'.
Intranet-Naming: Involve Staff 
Whatever approach you adopt, it's always a good idea to involve your employees. That way you are more likely to get staff buy-in to the whole process. A naming competition is a fun way to generate some buzz and excitement around the intranet. And your staff members may well have some great ideas that you haven't thought of. However, make sure you provide clear guidelines if you want to avoid the zanier, more off-the-wall suggestions.
Once you have drawn up a shortlist of the best ideas, invite staff to vote on their top choice. And hopefully, staff will feel a greater sense of ownership and engagement as a result of the contest.
Best Intranet Names List
If you are still struggling for ideas or inspiration, then here is some help to get you started. With our considerable experience, we have listed below suggestions and possibilities for your intranet's name. To make it easier, these ideas are grouped by the following themes:
Industry
People focus
Information and data
Intranet objectives
This selection of best intranet names should help to kick start your intranet naming process. And if you still need help, then you can always have a play with one of the many online naming generators. Shopify is a well-known naming generator. While another popular choice is Wordoid.
Industry
People Focus

EyeQ – optometrists
Spex – opticians
Voyager – travel agents
BEDPost – retailer of beds and mattresses
Pocketbook – police department
The Pantry – food manufacturer
The Font – church group
Milky Way – dairy and milk producer
Energy – energy company
MyLaw – attorneys
Heartbeat – doctors
MyLifeline – healthcare providers
The Checkout – supermarket
Click – photographers
The Beat – media/publishing
Blue Skies – brand gurus
MagNet – media/publishing
Sherlock – data insight company
Planet – sustainability company

Beacon
Buzz
Pulse
Grapevine
Insight
The Watercooler
iSeek
Our Place
Merlin
Athena
Atlas
Together
People Hub
Enable
Momentum
Xpress
Horizon
I-Connexion
The Insider
ConnectFour
MySpace

Information & Data
Intranet Objectives

The Hub
Work-e-pedia
Genie
Flash
InfoLink
WorkNet
The Grid
Insite
Info.net
Smartnet
Click
Bud-e
The Junction
The Oracle
The Orb
The Wire
Spectrum
Invent
O-zone
iNet
Intra-Zone
Fishnet
Spectrum
The Eye

Gateway
Link
Connect
Engage
Compass
Touchpoint
CommNet
The Forum
Inspire
Agent
Resource
Oneplace
Synapse
The Exchange
The Knowledge Center
Trustnet
OnTrack
Lynx
Intra-Scene
Interlink
Porthole
L1NK
The Insider
inVent
What To Call Your Intranet
Hopefully, we have given you some ideas to get you thinking about what to call your intranet. The bottom line is to come up with a name that works for your audience. And make sure you test out the preferred choice across the organization.
You should be certain it works across the different regions or languages used in your business. In addition, names are often shortened so double-check that your choice won't end up being called something different from what you intended.
It's well worth spending time on the naming process. Getting it right will help drive staff engagement and adoption. Getting it wrong could well have the opposite effect and see your intranet fail before it's even got started! You may have already invested all that time selecting an intranet provider and designing your intranet. Choosing the right name really is the icing on the cake.
Remember, the name will need to stand the test of time and will be one of the most-used words in the company. What may have seemed like a clever, quirky choice at the time could, five years later, be annoying or outdated.
Whatever you do, be sure to involve staff members in the final selection. As well as generating a buzz around the intranet, staff involvement is a sure-fire way to create buy-in. Employees that have been involved in naming the intranet are more likely to embrace the platform from the get-go.
And if you would like further help and advice on any intranet-related issue, then get in touch with us here at MyHub. Our super-easy to deploy and manage cloud intranet templates will tick all the boxes for your organization. Improved internal communications, streamlined business processes and more effective knowledge management are all on offer.
Contact us today for a free demo or a 14-day no-obligation trial. We can even help you come up with a name for your company intranet!