The office manager is an essential part of every office set-up. It might be George or Georgina, Julian or Julie, either way, they are the go-to person in the office for pretty much everything. From ordering stationery, booking a car park space or locating an important policy document, the office manager is a mine of information and knowledge and is critical to the smooth functioning of offices the length and breadth of the country. As every company knows, great office managers are so valuable that once you've got one, it's essential to hang on to them. Implementing good office management software that will support and enhance the office manager's role is, therefore, well worth the investment. What's more, office manager software will also support the wider operation of the business as the office manager will be more efficient and effective in their job. Let's find out more about office management software and how it could support the operations of businesses just like yours.
What Is Office Management Software?
No two days are alike for the typical office manager, but here we look at some common scenarios and identify how a cloud intranet can be effective as office manager software.
Internal Communications
Often it's the role of the office manager to keep everyone informed of all the latest company news and updates. Usually, this will involve sending out an all-staff email with the important announcement. Now, as a medium for delivering key information, the email isn't the most effective. For a start, there's no guarantee that employees will actually open, let alone read and digest the contents. And if a staff member needs to subsequently refer to an all-staff email to check on the date of the sales conference, for example, it often takes several minutes to locate the relevant one in the sea of emails that make up most people's inboxes.
A far more efficient way to get that important message across is through the cloud intranet's news pages. All staff are presented with the news page upon logging on to the intranet and with the ability to include videos and podcasts as well as exciting graphics and visuals, it's a much more engaging way to present your message and connect with staff than the over-used dull and lifeless email.
What's more, individual teams and departments can create their own news pages to supplement the corporate ones so that more localized and specialized updates can be shared quickly and easily with all relevant staff.
Automated Business Processes
The office manager is usually responsible for arranging and managing a number of centralized functions such as ordering stationery, booking meeting rooms, organizing car parking spaces for staff members and visitors, processing expenses claims as well as booking central resources such as marketing materials, projectors, loan cars and so on. In most offices, this usually involves completing a paper form and either handing it to the office manager or scanning and emailing it. The office manager then completes the task before confirming the arrangements either through email or another paper form. It's a labor-intensive process at best and at worse can result in errors or omissions as too many steps are involved and the potential for information going astray is huge.
Streamlined automated processes are, however, available through a cloud intranet. Using an intuitive step-by-step procedure, the office manager can create their own online forms on the intranet. Then the applicant can quickly and easily complete the form online. The intranet then automatically routes it to the correct member of staff for action. It's a great time saver and a far more efficient way to get things done as it reduces the possibility of human error or information going missing.
Sharing Files and Documents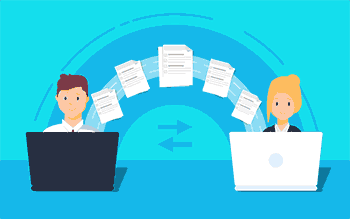 A familiar task for many office managers is taking and sharing the minutes for senior management teams. The process usually involves preparing a draft, then emailing it to the chair and/or senior management team for comments or amendments. The office manager then collates the suggested amendments before making the changes and then circulating them to relevant staff in the business. The cloud intranet can simplify this whole process so that a task that took many collective hours of time and a great many steps, can now be achieved quickly and easily through a shared workspace on the intranet.
Access to the workspace can be restricted using a set of rules so that only those employees that have the appropriate authority can view and edit the often sensitive information that senior management team meetings address. Draft minutes can be embedded directly in the project workspace so that all members can edit and update the document simultaneously in real time. The intranet will automatically update the source document every time someone makes a change so that the very latest version of the minutes is always available on the intranet. In addition, the intranet can be used to keep track of action points and follow-up on tasks arising from the minutes. Senior management team members can provide an update in the shared workspace, which frees up the office manager from having to chase progress reports before every meeting.
The amount of time and energy the organization saves in terms of chasing comments, collating amendments, circulating and recirculating documents is not to be underestimated.
We've looked at just three common tasks completed by office managers and have demonstrated how a cloud intranet can effectively satisfy the need for office manager software. There are countless other ways an intranet can help, and the great thing is that with an intranet all staff members also get to accomplish the same things.
Why Office Management Software?
Increased productivity and more efficient processes are what's on offer with cloud intranet office manager software. It's as simple as that. Not only will your George or Georgina be more effective office managers, it's also likely that you will retain their services for longer – the job is more rewarding because they can achieve more than was previously possible. It's quite clearly a win-win situation for your organization, especially when you consider that all other employees will also gain similar benefits.
How To Setup Office Management Software
A highly effective office management software option is a cloud intranet. Easy to set up and manage on an ongoing basis, without the need for any great technical ability, the cloud intranet has much to offer the office manager. What's more, it will also deliver a range of business benefits to the whole organization.
Utilizing a set of pre-built templates that can be customized to your own needs, the cloud intranet includes a number of standard features and tools that every office manager needs to have at their fingertips. In addition, these features and tools will be available to all staff thereby enhancing productivity and efficiency across the whole organization. So what exactly are these tools and features? Well, let's go on to look at what's available in relation to the office manager's needs in particular.
Next Steps
So, if you're considering implementing office management software, make sure you opt for the flexible, cost-effective and super easy cloud intranet solution. Check out MyHub's cloud intranet with a free demo or a no-obligation 14-day trial. Get in touch today.